Part Number Search
Know your part number? Enter the number here for more information.
Welcome to Specialty Products Company, designing and manufacturing innovative automotive suspension parts and tools since 1971. Specialty Products features three product lines that cover a variety of vehicle suspension needs, from traditional automotive alignment and heavy duty truck applications, to high performance suspension tuning solutions.
2020-21 Sourcebook™ Available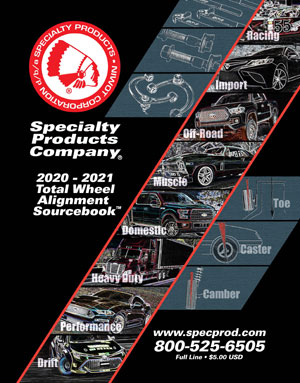 Hot off the press!!!!

Get the latest in applications, new parts and more in our updated 2020-21 Sourcebook™.
Click here to order your copy today, or call 800-525-6505 and talk to one of our customer service reps.

Live Chat Available

Monday - Friday

8-5 MST