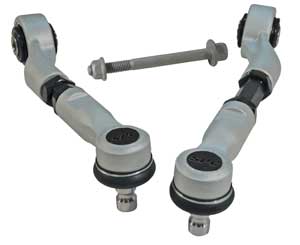 Audi / VW - Performance UCA's
Part No. 81355 / 81365
These performance sets of fully adjustable upper links contain the new xAxis(TM) Sealed Flex Joint to eliminate bushing deflection and maximize handling response. Each set allows camber and/or caster adjustment of ±1.50°. The 6061-T6 forged aluminum ends with large 18mm threaded adjuster links make this the strongest kit available.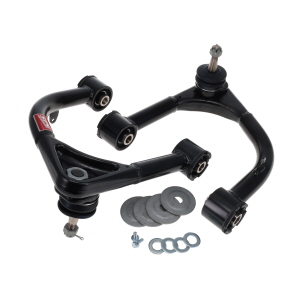 Toyota Land Cruiser 200 Series UCA
Part No. 25465
Toyota Land Cruisers( 200 Series ) run out of factory adjustment when installing lift kits. With our patented design this upper control arm provides an additional +/-2.0° of camber and -1.0° to +3.0° of caster change. Built with an OE style sealed balljoint and SpecRide bushings, this arm is designed to correct alignment angles while maintaining factory ride quality. SPC's integrated tubular and cast steel design provides the strength and durability needed for the most demanding environments. These remove and replace arms are available in pairs for lifted and off-road application.
Peterbuilt Z Shims
Part No. 35015
Use these shims to adjust pinion angle on the drive axle of tractors equipped with Peterbilt Low Air Leaf and 'Z-Springs'. The OE shim is aluminum and does not last under load; the SPC Zinc Shim is built to last. #35015 1.0° Qty: 2 #35016 1.50° Qty: 2 #35017 2.0° Qty: 2
Toyota Light Truck UCA's
Part No. 25485
Many lifted Toyota Tundras and Sequoias cannot be returned to factory alignment specs with OEM cam bolts due to geometry change or corrosion. This new Upper Control Arm kit allows for +/-2° of camber and 0° to +4° of caster change vs. the fixed OEM upper control arm. The OEM style sealed high-angle ball joint allows for additional droop travel without the squeaks and rattles commonly caused by unsealed Uniball-style arms. The hybrid tubular steel design is tough enough to survive even the harshest usage. Use these remove and replace arms in conjunction with the factory cams to maximize clearance in the wheel well at the same time that you get your drivability back and extend tire life.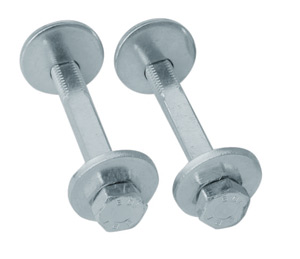 Sprinter Van Front Camber Kits
Part No. 35077
Camber change on the 2007 and up Sprinter Van is quick, easy, and locked in with this SPC cam kit. Get up to +/-3.0°camber change by simply removing the upper OE strut bolt, loosening the lower bolt, installing and adjusting this cam kit to the desired change and then tightening everything to specification. This is an easy fix for camber issues and a perfect companion sale for any strut job. Save time, money and effort by making aligning this two bolt strut vehicle a one man job. Kit includes two cams, one for each corner..